Possibly much of the concern about COVID-19 is the uncertainty about how to proceed: various sports are playing games in empty stadiums, 300 million schoolchildren worldwide are not in school, domestic air (both EU and US) flights are being cut back, President Macron urged France's citizens to stop visiting the elderly, and Italy has shut down. 90 countries affected, 102,000+ ill, with 3,300+ fatalities. How do shippers and carriers plan for an environment that includes a 14-day quarantine? The virus has suddenly spread into 27 Americans states, if American consumers stop shopping, could that not be the straw that tipped the world into a recession? Worth noting is that consumers are unable to buy goods that aren't on the shelves, and the current problems of boxes stuck in China might advance that tipping point.
The box carrier-related news coming out of China is mixed. On March 2, CMA CGM said port operations are recovering; "manufacturing activities are picking up, more port workers and truck drivers are returning to their posts, and cargo flow easing up at the major coastal ports." OOCL agreed with the improving situation, saying "We have seen many terminals and depots returning to normal operations. The reefer plug shortage issue in Shanghai, Tianjin and Ningbo has also gradually improved and more trucking services have resumed." Maersk however, might disagree; this week they increased their US$ 1,000 reefer congestion surcharge to more Chinese port, as the reefer boxes are not being moved inland.
Last week the US agency UNCTAD quantified the February cost of the virus to the world economy; a U.S. $ 50 billion shortfall of Chinese exports, of which precision instruments, machinery, automotive parts, and communications equipment were the largest part. The UNCTAD spokesman emphasized these were strictly February numbers and were conservatively figured. Adding insult to injury last month were major storms Brendan, Ciara, and Dennis; they further exacerbated the UK and Northern European port issues caused by blanked sailings and the box imbalance as flooding and power failures affected those boxes moving by rail, ferry, and road.
Box Shortages
Forgotten in the daily virus news is that Chinese trade with the EU and US is dependent on container availability, and an unexpected consequence of the many blanked sailings, is that Chinese container yards and factories throughout the country are teeming with 20/40' boxes that need to be re-positioned into the main EU and US ports. As tracked by the Hamburg-based online container service Container-xChange.com, on March 2 the container inventory in Shanghai was 47% higher than a year ago, while Hamburg was lower by 33% and Los Angeles /Chicago were lower still. 'It's difficult to load containers in the Ruhr when they're sitting outside of Shanghai.
With CMA CGM also announcing an additional 23 voyages (Northern Europe-Asia) blanked until June 2, box space is extremely tight. It's also increasingly expensive; CMA CGM also announced an 'emergency space surcharge' of Euro 50/100 box for 20/40' containers respectively from Northern Europe into their Mediterranean and North African ports and The Loadstar reports the box carriers are preparing to raise FAK rates in the next weeks.
The Xeneta platform reports the following market average rate for 40' dry box rates -
Feb 28 – March 11:
Shanghai – Rotterdam: USD 1467 – USD 1395 (drop of USD 72 / box)
Shanghai – Los Angeles: USD 1356- 1352 (drop of USD 4/box)
Los Angeles – Shanghai: USD 312 – USD 321 (increase USD 9/box)
Rotterdam - Shanghai: U.S. $ 694 - $ 1090 (increase of USD 396/box)

[CLICK TO ENLARGE]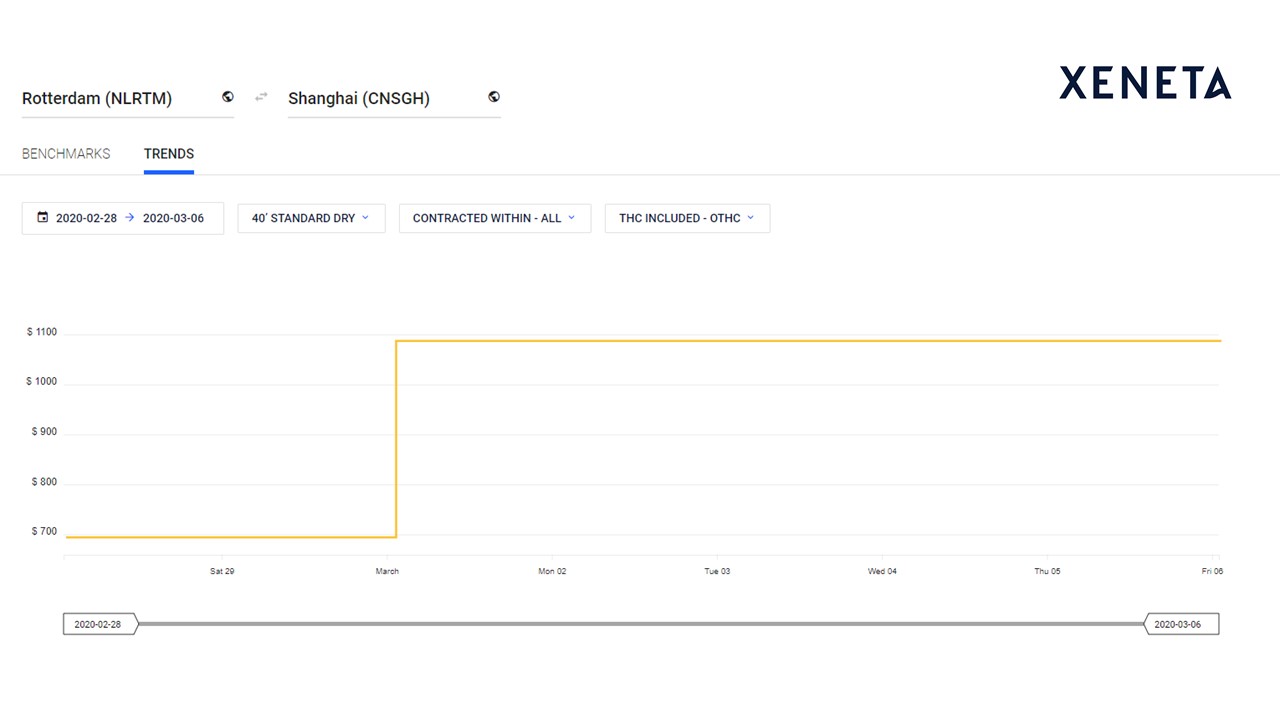 While the box imbalance is surely currently affecting rates, more likely is there is no single answer. With Sea-Intelligence estimating some 1.9 million TEUs having been lost due to the box carriers blanking some 50% of previously-scheduled sailings since the virus overwhelmed China end January, the carriers are simply reacting to events as the virus circles the globe and rates will be 'spot' until the situation normalizes. Stay Tuned!