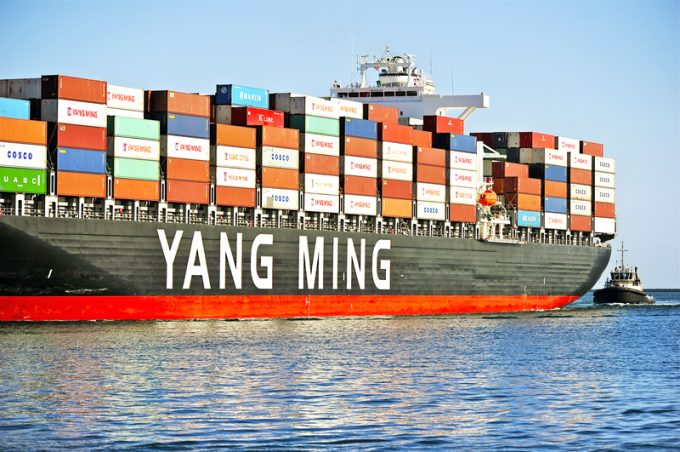 Yang Ming is struggling. Despite losing 2x in 2016 what they lost in 2015, since January of this year, they've been reassuring both customers and investors they were solid. They said that the Taiwanese government would invest $ 1.9 billion, with an additional $ 54 million from six private investors. Drastic salary cuts were imposed from the senior management to line manager levels, and YML assured the shipping world they would be returning to profitability in 2017. That's not necessarily true. Container rates and scheduling could be at risk.
On April 19th, trading on their shares was suddenly suspended, with the carrier announcing they were doing a reverse split that would reduce its share count by 50% in order to increase share value when trading resumed May 4th. Yet they refused to release the identities of the six private investors, and the shipping world correctly noted that six $ 9 million investments was hardly going to keep Yang Ming afloat. Financial analysts think at least $ 300 million will be needed in 2017 to keep them from running out of cash.
The reverse split is not working. YML closed on April 19th @ 6.15 NTD per share, and although it reopened on May 4 at 15.03, on May 8 (during morning trading in Taipei) the price had slid to 12.7; hardly the vote of confidence both the line and its customers needed.
Ocean Freight Rates & Scheduling Will Suffer
The shipping world is all about rates and performance - and neither the carriers nor the shippers can afford another Hanjin.
Although The Alliance has said they will work to move any distressed boxes in case of a member's bankruptcy, YML is the world's 9thth largest box carrier, and moving 585,206 marooned TEU's could completely overwhelm the already badly confused East-West shipping schedules.
Low-priced boxes are being rolled-over repeatedly as higher-priced boxes are shipped in their place. Which of The Alliance carriers will drop their own paid cargo and take a big slug of YML's boxes without the payment confirmation of a bankruptcy court?
Similar to Hanjin's shutdown; rates may rise on the lanes served by Yang Ming, but the other carrier's ability to move boxes may be compromised by the now-catastrophic log jam at the container terminals.
As has been reliably reported by others, the carrier-induced backlog of cheaper-priced boxes, when added to the chaos already caused by The Alliance and the Ocean Alliance scheduling failures, will only serve to widen the widening divide between the carriers and shippers – and that serves no one, ever.
Be in the Know When Volatility is at Hand
We'll keep montioring the Yang Ming situation. The shipping world isn't ready for another liner catastrophe, although many learnings came from the Summer of 2016. This year has seemingly recovered for the carriers with much stronger prices nbeing clocked for the main trade routes. But, as always, there is never a dull moment in this industry. Yang Ming could just throw things belly up again. Cargo lost at sea again? I hope not. We all must stay vigilant and monitor rate activity constantly. It's important to be in the know when volatility is at hand.