Between 1990 and 2019, annual CO2 emissions from the transportation sector increased by nearly 80 percent to a record high of 8.25 billion metric tons (GtCO2). While global transportation emissions fell by 12 percent in 2020, they are expected to have rebounded in 2021 after the pandemic.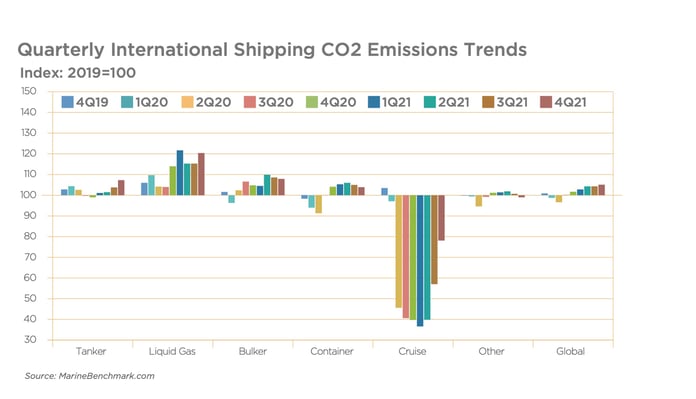 Sustainability has become a key pillar for the majority of industries, particularly as stricter regulations are put in place to reduce emissions. Another major driving factor ramping up the internal motivation to change is evolving consumer preferences.
Nearly 80 percent of U.S. consumers consider sustainability (of a product, the retailer, or the brand) when making at least some purchases. It is an increasingly vital differentiator for consumer-facing businesses to invest in making their products and supply chains safer for the environment.
With these two external pressure points pushing in the same direction, shippers, freight forwarders and carriers must answer these demands by prioritizing more than just their bottom line—ensuring sustainability lives within many different facets of their supply chain processes. Lucky for them, sustainability & financial success is not an 'either-or' decision.
By investing in technology that supports a greener supply chain, logistics professionals can build a long-term lucrative freight strategy that doesn't compromise the quality of supplier services. 
In September 2020, we spoke with Dr. Pierre Garreau, CEO & Co-Founder of SeaRoutes, on how the right data can support sustainable transport decisions and, over time, help track the impact of such decisions.
He suggested that giving shippers the possibility to choose and measure accurately the services that reduce their CO2 footprint is a step in the right direction to reducing emissions from transport. 
According to Garreau, shippers and freight forwarders were then basing their freight buying and selling decisions on the reliability index of carriers' transit times but, in the next 5 to 10 years, would have a crucial need for CO2 emissions data to compare these suppliers.
Just two years later, big shippers with CO2 targets are already choosing carriers who are not only reliable but also working to continuously reduce their CO2 emissions as well. While using this type of data is crucial for a more sustainable supply chain, there are challenges with what's currently available.
Data sources from various providers or ocean freight carriers often do not measure emissions accurately or at the right level. 
For example, carrier data is often based on how a vessel performs under optimal conditions and with certain assumptions for cargo load and speed rather than data from actual sailed voyages.
In order to get service-level emissions data, carriers would need to consistently and accurately report the service or vessel level between port pairs. However, data on the fuel consumed by a specific vessel between port pairs is sensitive information as it contains pricing information and is therefore unlikely to be released by carriers.
As an answer to this lack of transparency, there is now a solution that offers complete control to shippers and forwarders to proactively choose a greener carrier in their freight buying & selling process.
This solution, the Carbon Emissions Index (CEI) from Xeneta and Marine Benchmark, offers a first-of-its-kind look into how carriers compare in terms of carbon intensity (tons of CO2 emitted for every ton of cargo carried on route).
The data is based on vessel information from actual sailings and includes changes in speed, cargo load, time steaming and time spent at anchorages (congestion).  
The CEI is the only factual, timely, independent reference that doesn't rely on or include carrier input.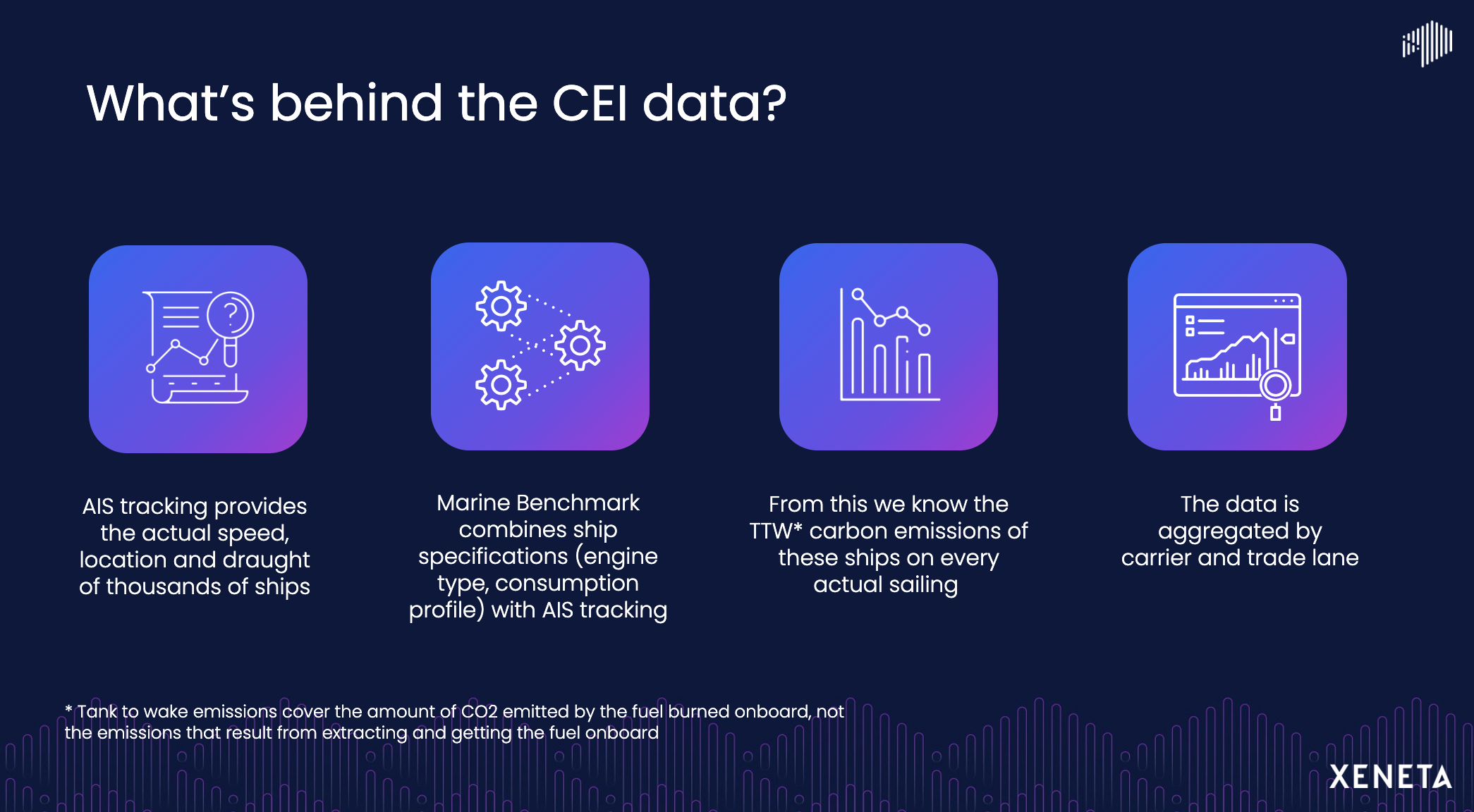 It is based on actual cargo load, making it the best way to select carriers that are improving their environmental footprint over time. 
While the CEI was in testing, one early adopter said, "What I've seen [in the CEI] allows me to give green carriers credit for tender. I think Xeneta can have a positive impact on the world with this data—the conversations with stakeholders about the data will lift this forward." 
We believe transparency and reliability on price, as well as greener solutions, allow businesses who buy and sell freight to compete not only on pricing but on qualitative aspects of the service.
Want to know how you can use the CEI in your tender processes?
Sign up to be alerted when the CEI is available and be the first to get a live demo.