Similar to the situation in shipping, many air freight trade lanes are now witnessing record-high prices. But volumes are still below pre-Covid levels. Luckily, we have launched yet another update to our Xeneta for Air Freight product to give even more visibility into this volatility. Customers can now combine rate, capacity and dynamic load factor data from CLIVE to see how rates are impacted by supply and demand. Spot lagging trends to make predictions about how rates could change in the future.
Before we dive into the details of the latest air freight product update, let's have a look at the current air freight market situation.

According to the latest global air cargo market intelligence from CLIVE Data Services, congestion on the ground has muted air cargo's growth in November, with volumes falling by -1.2% versus October, reversing the trend traditionally seen in the peak build-up to Christmas. So, what will 2022 have in store for the market?
Congestion On The Ground
US opening was supposed to help with capacity issues. Still, the first few weeks after the US border reopened for European travelers, air freight capacity was reduced as more passenger luggage meant less room for air cargo.
However, west-bound trade capacity has now risen to similar levels as before 8th November, but still lower than pre-pandemic levels. This increase isn't present on the eastbound trade yet.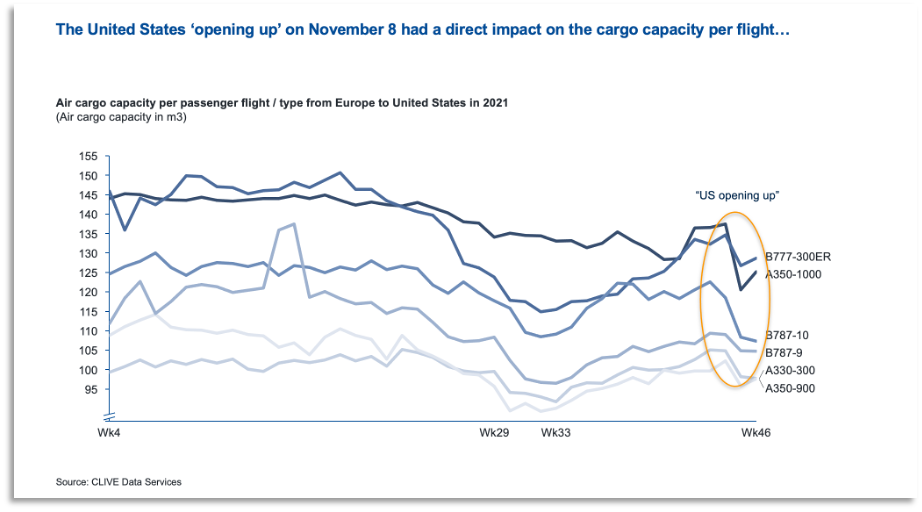 Also, some shippers are being penalized for more volumes as the current air freight market struggles to meet high demand. Usually, the more volumes you ship, the lower is the kilo price. However, the premium for sending lower volumes has now disappeared or reversed on the market average.
Reinstating the transatlantic services didn't offer any relief to the cargo market as well due to increased volumes of passenger baggage.
Europe to North America market data for the last week of October versus the third week of November, before the Thanksgiving holiday in the US, showed capacity down 7.3% and load factor up 4% pts to 86%. Airfreight rates for this market consequently saw a 10% increase.
An inefficient system has been a reason for this unexpected month-over-month shift. Labor shortages have impacted airfreight, especially on the ground, similar to the ocean freight market at US West Coast ports.
 "The current inefficiencies on the ground must have opportunity costs for airlines, forwarders and shippers alike because cargo will be missing flights. Two months ago, we described the air cargo market as 'fragile' heading into the traditional peak season, and this fragility is being visualized on social media through airport movies showing countless pallets and containers waiting on the tarmac," said Niall van de Wouw, CLIVE's Managing Director.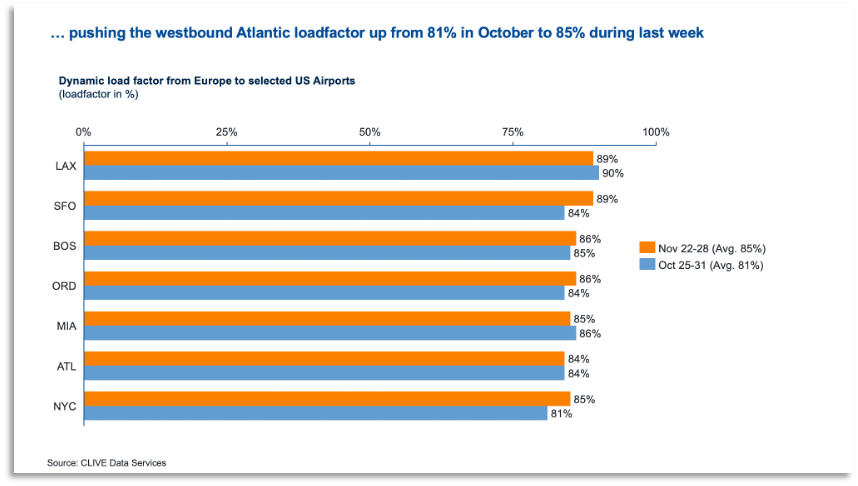 New Covid Variant Brings Unfamiliar Challenges
The new Omicron variant has also added chaos to an already hectic situation in the air freight market with the new wave of travel restrictions.
As stated in the December iXRT (Internal Xeneta Roundtable) report, "even though the peak season will end as Christmas passes, no one can guarantee a fall in air freight rates as we continue to face an unfamiliar situation."
The unpredictability of the situation and the cancellation of passenger flights adds chaos to the already hectic air freight market. At the same time, the rush to get Christmas goods in on time has left shippers with little option but to pay the rising air freight rates.
Even more than ocean shipping, air freight is at the mercy of near-term developments in the pandemic. Travel restrictions almost immediately affect passenger flights and, therefore, belly capacity.  As long as the pandemic continues to rage and low vaccine rates remain in parts of the world, the threat will continue.
An interesting development on this front is the announcement from China who is no longer allowing cargo in passenger cabins, removing more of the much-needed capacity.
As has been the case for most of the past two years, keeping a close eye on market developments along with close contact with carriers and freight forwarders will be essential for shippers to get through the challenges as smoothly as possible. 
Xeneta Product Update: Air Freight Rates And Load Factor Combined
Solutions to the problems that will soon be dragging into their third year may need some creative out-of-the-box thinking based on particular shippers' needs.
We have now added Xeneta short- and long-term rates to the interactive chart containing CLIVE data, which offers the most up-to-date view of capacity and a unique view of dynamic load factor for global air freight cargo. Now combined with Xeneta data, this product update will offer you the best independent view of the air freight market.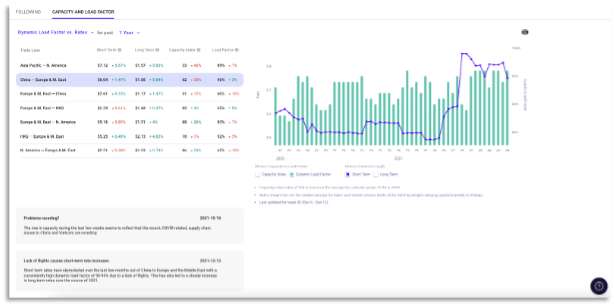 Users can now combine rate, capacity and load factor data to see how rates are impacted by supply and demand and spot lagging trends to make predictions about how rates could change in the future. The commentary will be frequently updated in the platform, explaining charts trends and drivers behind the data.
Available to all Xeneta Air Freight customers at no additional charge, these charts are easily exportable for you to share across your organization.
Contact us for proof of value if you would like to learn more about the Xeneta platform and how you can get instant visibility into air and ocean freight rates, capacity, and overall market trends.