Thomas Sørbø
Feb 03, 2021
After more than 9 incredible years with Xeneta, I have decided to leave the company Patrik Berglund, Vilhelm K. Vardøy, and I founded. It has been a privilege to co-found, serve, and grow Xeneta from the early days when it was just a handful of people to the global company it is today.
I am very proud of Xeneta, its talented employees, and its impressive international client list. A huge thank you to everyone that has been part of our journey building Xeneta, all employees, customers and investors. We could not have done it without you.
I'm not retiring or joining a big corporate, but I'm starting a specialized freight procurement consultancy that I've named Nordilog. I'm truly excited about starting from scratch again - I will use everything I've learned over these years and provide coaching and consulting to executives and logistics teams worldwide. I will stay connected to Xeneta, use the benchmarks in my future work and remain a shareholder.
I will follow Xeneta's continued success from the sideline and keep on cheering.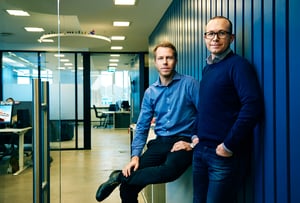 Patrik Berglund, CEO, Xeneta, comments: "What a ride Thomas and I have had together from thinking up the idea of Xeneta many years ago in the halls of K+N, to where we are now. Thomas' relentless drive and innovative ideas to constantly push our value proposition and product forward to fundamentally change the way ocean freight is procured is admirable. Xeneta wouldn't be where it is today without him. I wish him all the best in his new journey and can't wait to see the success of Nordilog."

Pictured from Left: Patrik Berglund, CEO/Co-founder, Xeneta. Right: Thomas Sørbø, CBDO/Co-founder, Xeneta.
What is Nordilog? How Can It Help?
Nordilog offers services to help cargo owners buy smarter and spend better. We understand the value of data; we are experts in analyzing and providing critical insight, and last but not least, how to take action based on it.
With all the current market volatility, disruptions, and emergency surcharges experienced during 2020 and still going on, you can be sure that this has also affected the invoice accuracy from ocean carriers and freight forwarders.
Nordilog offers a digital solution that can help you map this by using machine learning, extracting essential information from your freight invoices. Based on this, we can spot mistakes related to overcharging, map and report how your business has been affected by Covid-19 in terms of extra charges, facilitate the refund and much more. The invoice data is your golden ticket to freight spend analysis and further improvements.
Most businesses, regardless of scale and industry, require expert input from consultants at some point during their evolution. We, therefore, also offer services such as
Freight spend analysis
Strategic sourcing and tender management
Quick-win programs
A monthly subscription where I provide advisory services as a sparring partner.
If you would like to learn more, reach out to me directly to have a virtual coffee to discuss how I can help you in 2021.
https://www.linkedin.com/in/thomas-sorbo/
Again, this is not good-bye, but a "see you later". To continue innovating this industry, the Xeneta benchmarks will form an integral part of my work with Nordilog.
Thanks again to all our customers, partners and the Xeneta family for an amazing journey. Onward and upward.