Xeneta's CEO and Co-Founder Patrik Berglund and VP of Customer Success & Solutions Michael Braun teamed up with industry maven and Henkel's very own Global Category Team Lead Logistics, Julia Myroshnychenko, in the March Ocean Freight Market Pulse webinar. With a nearly 90% reduction in rates on the short-term market and the long-term trailing with a decrease of up to 70% on some trade lanes (Far East), conditions of a softened market have materialized in both contract-lengths, further advancing buyers. Customer guest Julia Myroshnychenko advised viewers while recent conditions have been advantageous to buyers - memories of a completely different market aren't so far off.
Key Webinar Takeaways
Shippers/BCOs benefit from a buyer's market with significant cost reductions due to continued rate (spot and long-term) downturns in the past 12 months.

Despite some trades hitting their lowest points, shipping lines have/may still sell at significant losses, giving shippers room to expect further rate drops without an imminent upturn.

Uneven volume and capacity reductions suggest a weakened market.

Index-linked contracting remains increasingly popular with Shippers/BCOs to optimize profit and guarantee minimal risk.
Xeneta Customers Say
Xeneta customers are busying themselves in the softened market by speculating on rates to come. Michael questioned the audience, asking shippers specifically, how dramatic their volume decrease has been so far in 2023. Xeneta customers answered:
25% saw no reduction in volume

19% saw a decrease in volumes between 1-10%

32% saw a decrease in volumes between 10-20%

18% saw a decrease in volumes between 20-30%

7% saw a decrease in volumes between 30-50%
The results were telling. Only 25% of Xeneta customers are seeing no reduction in their volumes so far in 2023, and the remaining 75% are seeing drops between 1-50% in volumes.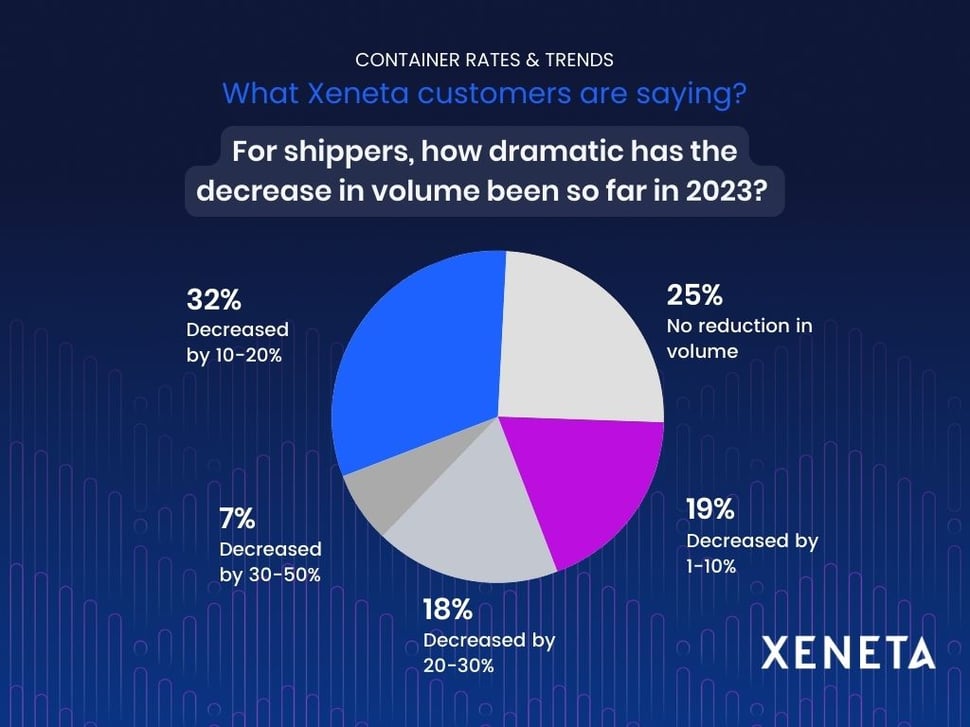 To draw a correlation between decreased volumes and bottoming rates, speakers then asked Xeneta customers to report their discounts profited during tenders so far in 2023.
12% received between 1-10% decrease

23% received between 10-20% decrease

33% received between 20-30% decrease

28% received between 30-50% decrease

5% received increased rates so far in 2023
With the majority (at 95%) of Xeneta customers experiencing massively decreased rates, guest feature Julia Myroshnychenko of Henkel offered commentary to the Xeneta customer community, "While the numbers are shocking, it is indeed a reality – but we must remember a different market just a few years ago and use those learnings to build resilience in these conditions."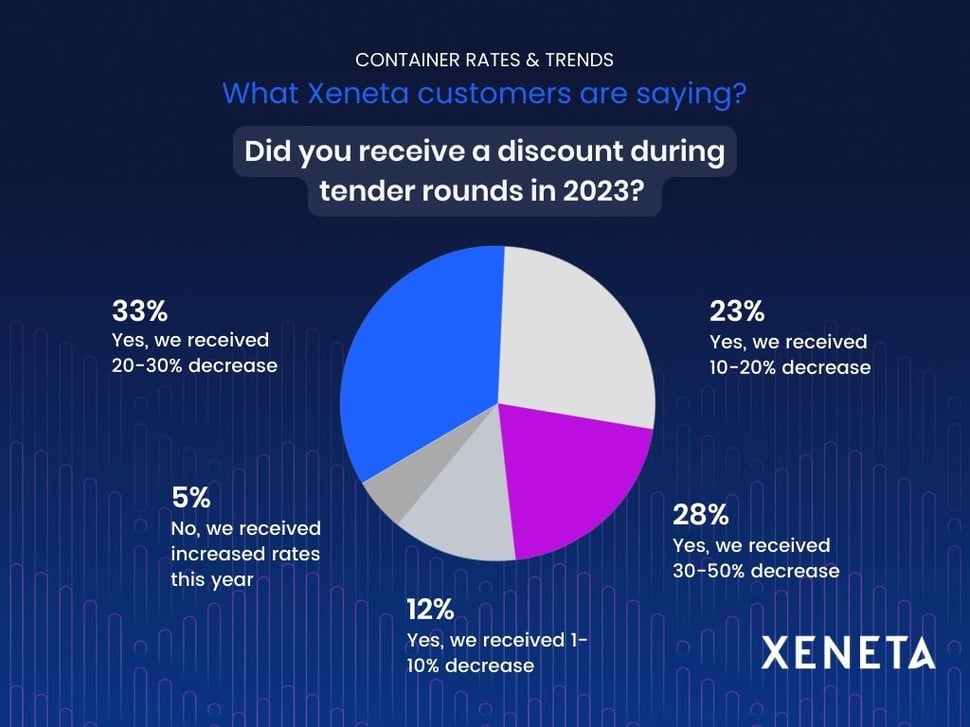 At the end of the session, Julia was asked about Henkel's plans to incorporate indexing in these changing market conditions. Interest from Xeneta customers and the shipping industry in using index-linked contracts is peaking. Julia explained Henkel's consideration of using indexing on the trade lanes, which haven't yet bottomed out; she cited Xeneta indexing as the natural choice because it is a well-established and recognized benchmark platform. Xeneta indexing is unique to others as it hedges on the data provided by the Xeneta customer community, helping you to avoid basis risk. It includes 30 high-quality global trade lanes, only 1 month lag (as opposed to 6+ months for some comparable legacy indices) for data with over 36 months of consistent deep, daily data, which can be customizable from region to region. For dynamic coverage, the XSI® publishes daily.
Want to learn more?
Xeneta customers get access to exclusive monthly market commentary during the Ocean Freight Market Pulse Webinars. Learn more about the Xeneta platform and how to become a customer now.
Existing customers inclined to learn more about incorporating indexing, reach out to your Customer Success Manager directly.

Not yet a customer? Contact Us.