With air cargo

capacity

finally above

pre-pandemic levels, freight buyers with market insight can step into the driver's seat as rates continue to weaken.
With air freight rates continuing to weaken, many shippers and forwarders are looking to secure contracts that will successfully carry them through the rest of 2023, potentially with new suppliers.

In this webinar, air freight market experts Wenwen Zhang and Niall van de Wouw will present market insight that market players can take into short and long-term contract negotiations over the coming months.

Leave with answers to:
We're seeing a mixed picture in the market as global demand continues to fall. Where do we see volume growth?

Transatlantic westbound volumes drop for first time in two years; how long will economic challenges last?

With the capacity/demand balance leaning towards oversupply, how low will rates go?

How will falling air freight rates impact this year's contract negotiations?

Data sneak peek: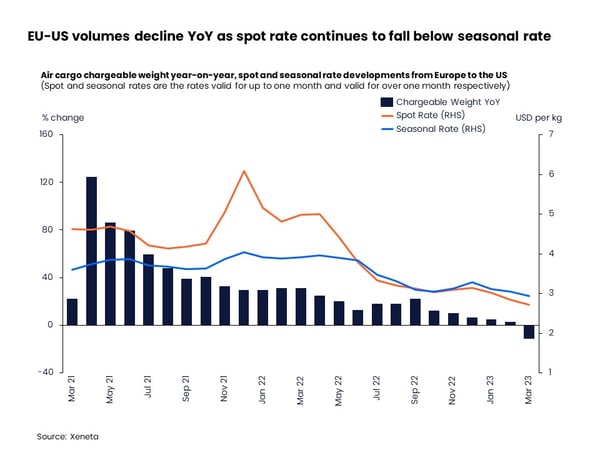 Over the past two years, Transatlantic air cargo traffic was steadily increasing until February 2023. With high inflation and economic challenges on consumer spending, air cargo volumes on the westbound Transatlantic experienced the first year-on-year decrease, falling by 12% in March.