Product update
Market Insights
Xeneta Platform Integrates Schedule Reliability, Capacity and Blank Sailings Data
Anastassia Wojtek
Nov 05, 2020
We are thrilled to announce that Xeneta will integrate leading container industry data provider Sea-Intelligence's, schedule reliability, capacity and blank sailings data directly into our platform. Customers will be able to experience the power of on-demand ocean freight rate data intelligence coupled with critical container supply information. Schedule reliability is already available as an add-on in the Xeneta platform. Capacity and blank sailings will be available as an add-on in the platform in early 2021.
The Sea-Intelligence schedule reliability, capacity and blank sailings data is available under the Xeneta Market Insights add-on umbrella. Xeneta Market Insights aims to connect must-have industry and market external data insights into our platform.
In the logistics industry speed, space availability and reliability are of paramount importance and are usually key performance indicators in QBRs or other regular reviews. Consequently, it was our goal to find the best source to enrich our existing ocean freight rates database, thus providing a smart connection between essential information points. Sea-Intelligence is one of the leading data providers in the container shipping industry and we are proud to partner and integrate with such a high-quality business to deliver on these values.
Schedule Reliability | Available Now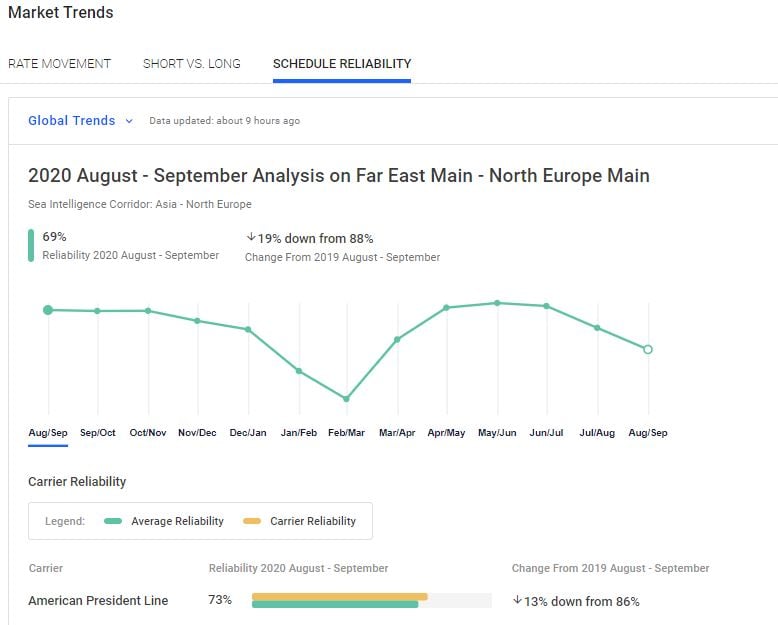 Schedule reliability allows ocean freight transportation professionals to understand the on-time performance of carriers and alliances.
12,000 Monthly Vessel Arrivals
60+ Container Carriers
34 different Trade lanes
More than 300 Services/loops
Historical information for trend analysis
Capacity | Available in Xeneta in early 2021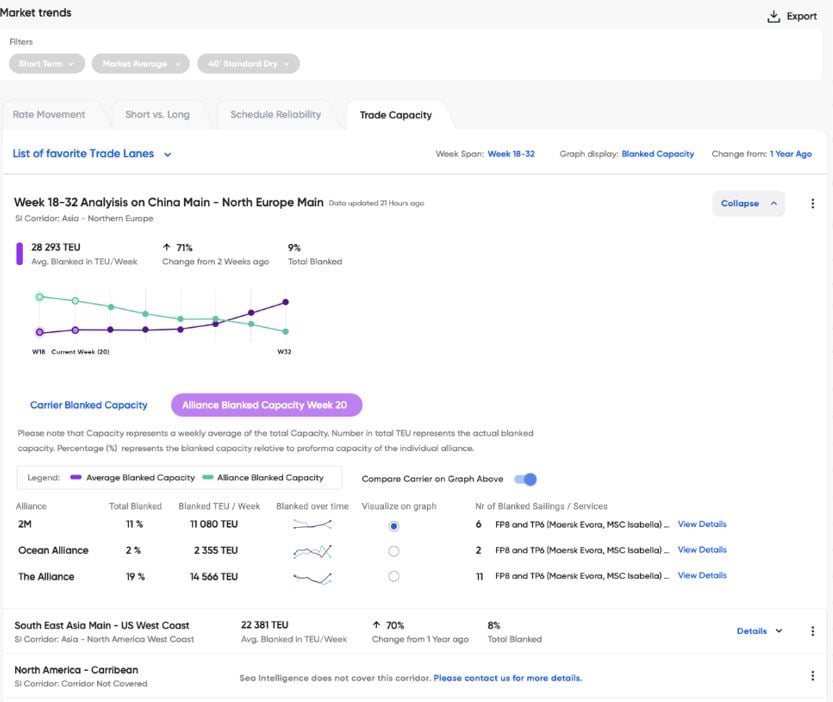 Capacity figures will be fully integrated directly in the platform, allowing you to have a granular picture of availability for TEU volumes by carriers and alliances. Get the full picture of both availability and how it corresponds to pricing in the market.
Week-by-week capacity
Covering 19 major trade lanes
Capacity outlook is based on vessels scheduled for deployment
Blank Sailings | Available in Xeneta in early 2021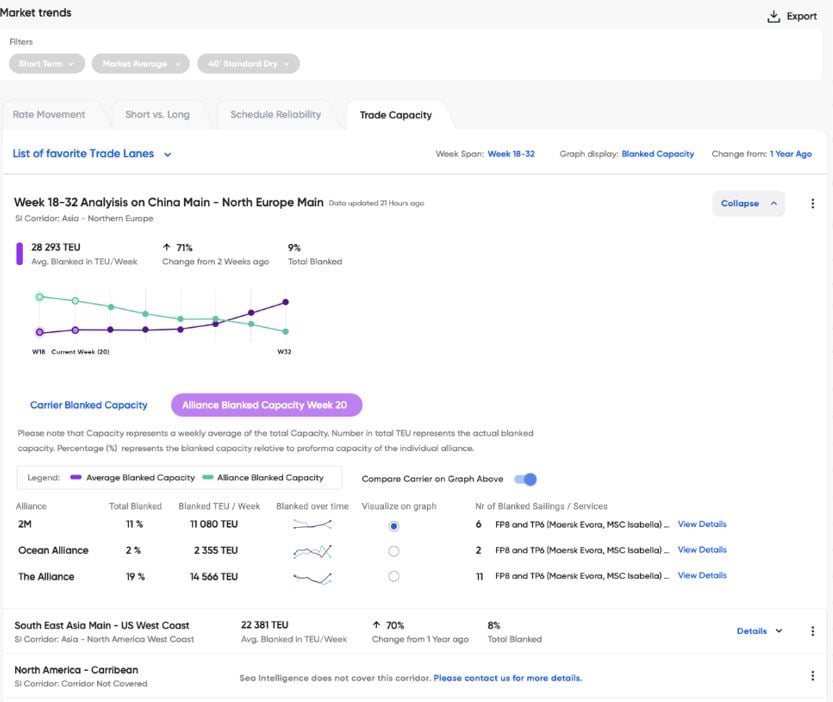 Blank sailings will be integrated directly in the platform allowing you to understand blank sailings movement, as well as no departure information for both carriers and alliances.
6 trade lanes
Outlook into the next 12 weeks
Filter on alliance, carrier, service
Count of blank sailings & share of total capacity in TEU
This is the first time we are integrating 3rd party market data. With Sea-Intelligence's schedule reliability, capacity and blank sailings data we are not only connecting data but rather delivering a starting point for explaining and assessing developments in our core freight data. At Xeneta, our goal is not to be a collector of data for our customers, but rather, the connector.
Looking at the logistics industry, the amount of relevant data is close to infinite. If you ask any logistics procurement executive it is imperative to have accurate, high quality and real time data available in order to monitor, analyze and plan for your supply chain needs. Connecting all these dots- so it becomes a meaningful baseline for KPIs with vendors, or internal processes- is still rather an art than a science: Multiple sources need to be linked and put to action in a humanly digestible way. Our integration with Sea-Intelligence is the beginning of this. We are unifying must-have ocean freight market insights into one platform.
See Xeneta in Action
To learn more about Xeneta Market Insights schedule reliability, capacity and blank sailings data, please go here.
If you are interested in learning more about the Xeneta platform and how you can get your hands on ocean freight rate intelligence, schedule reliability, capacity and blank sailings data all in one turnkey platform, please contact us and we're happy to show you how it looks and works.
If you are an existing Xeneta customer and are interested in learning about how to add the schedule reliability, capacity and blank sailings add-on to your subscription, please contact your Xeneta Customer Success Manager.