Despite 12 consecutive months of declining volumes in the global market, trans-Atlantic westbound air cargo volumes have displayed a greater degree of resilience to economic challenges up to this point.
According to Xeneta data, the cargo traffic on this route has been consistently increasing over the past two years until the end of February 2023. Nonetheless, due to the impact of high inflation and economic challenges on consumer spending, air cargo volumes in the westbound transatlantic market experienced their initial year-on-year decrease, falling by 12% in March.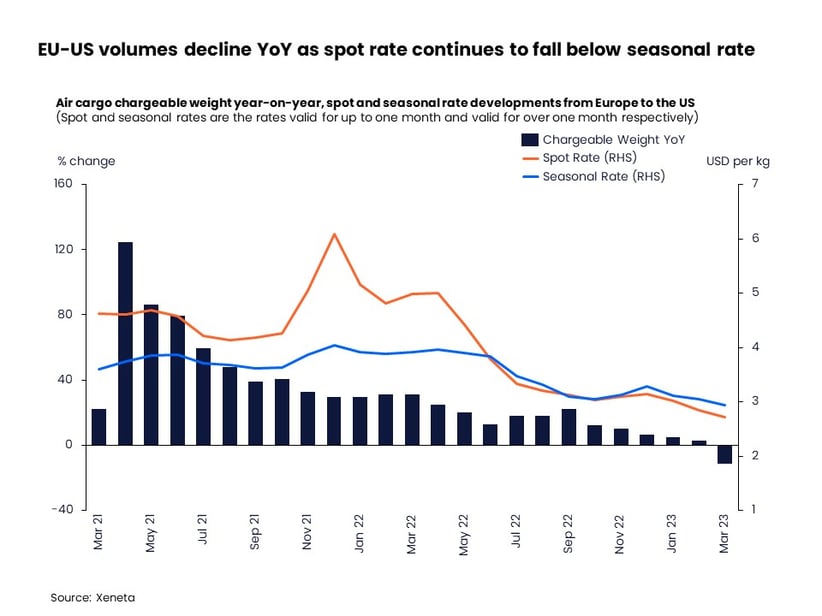 Air cargo tonnage in the trans-Atlantic westbound market comprises just 4% of the overall market tonnage, compared to ocean container shipping, according to data from the US Census. Nonetheless, the air freight value accounts for a substantial 62% of the total market share. Furthermore, air freight trading in the trans-Atlantic westbound market has not indicated any notable evidence of mode shift to ocean shipping when compared to outbound Asia trades. Despite the consistent growth of air cargo volumes, ocean volume growth has plateaued since the second half of 2022.
Although there was a consistent rise in demand, the air freight rates for Europe to the US have declined for ten months in a row. Additionally, passenger belly capacity has rebounded quickly and now exceeds pre-pandemic levels. This has contributed to a 46% year-on-year decrease in the air cargo spot rate between airlines and freight forwarders, which fell to USD 2.72 per kg in March.
The decline in the air cargo spot rate on the Europe to US route, dropping below the seasonal rate of USD 2.95 per kg, indicates a change in the balance of negotiating power.
(NOTE: Air spot rates refer to rates valid for up to one month, and air seasonal rates refer to rates valid for over one month.)
In March, 54% of the total market volumes for air cargo shipments were procured on the spot market, which remains significantly higher (up 24 percentage points) than the pre-pandemic 2019 level. According to experts, the proportion of volume in the spot market is anticipated to stay high due to the persistent downward pressure on air freight rates.
This is mainly because the trans-Atlantic market experiences high seasonality in passenger belly capacity, and the airlines' summer schedules, effective from March 26, will inject significant capacity into the market.
Want to Learn More?
Watch the latest episode of our monthly State of the Market Webinar for air freight rates to see where you stand in the volatile markets. If you have any questions, please send them to info@xeneta.com.
PS: Missed the LIVE session? Sign up to get the full webinar recording.