Since the pandemic, the Northeast Asia to Europe corridor, one of the major air freight trades, has seen freight rates vary greatly. In the week ending on the 5th of March, the average air spot rate was USD 4.12 per kg. While Xeneta air data reports a significant drop in rates, the decline is still shy of pre-pandemic rate levels.
If we dive into the regional trades, for the week ending on the 5th of March, airlines' average spot rate from mainland China to Europe stood at USD 3.73 per kg. This is a decline of 41% from the same week last year but remained 86% higher than pre-pandemic rates. This is attributed to the slow recovery of passenger belly capacity on this route and increased operating costs as western airlines have needed to reroute flights due to Russian airspace closures.
In the same week, the average airline spot rate from other countries in the Northeast Asia region (i.e., Japan, South Korea, Taiwan and Hong Kong) to Europe fell 43% from last year to USD 4.58 per kg. Greatly impacted by the surging operating costs due to rerouted flights, the spot rate remained 93% higher than its 2019 level.
Special Cargo Volumes Remain Strong
As economic headwinds linger, air cargo volumes for the first 9 weeks of the year on the Northeast Asia (incl. mainland China) to Europe corridor fell 23% year on year. This is a decline of 18% for the same period four years ago, hinting at a shrinking air cargo market compared to world GDP growth (+5.5%).
Special cargo volumes have stayed buoyant since the pandemic. The share of special cargo volumes year-to-date increased 21 percentage points from 2019 with volumes more than doubling since then. In contrast, general cargo volumes fell a considerable 37%.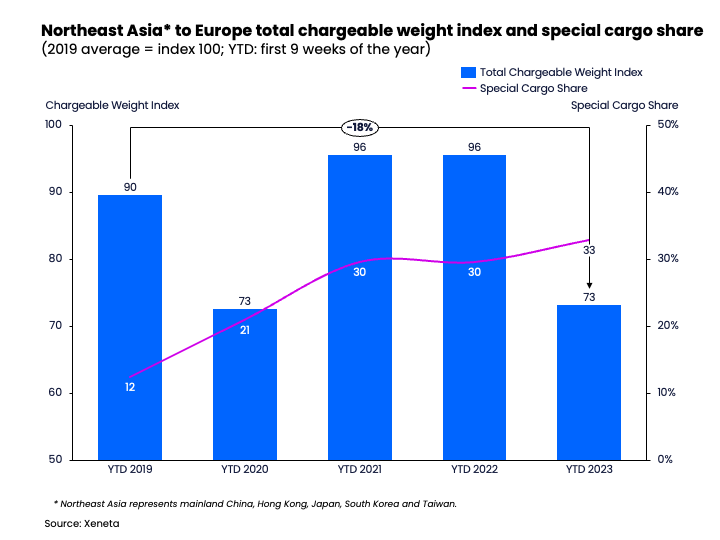 Passenger belly capacity is set to further recover in the coming months. Airlines should pay special attention to more product and service diversification, especially on temperature-controlled special cargo. This will allow them to secure revenues during a weakened general air cargo market.
Want to Learn More?
Watch the latest episode of our monthly State of the Market Webinar for air freight rates to see where you stand in the volatile markets. If you have any questions, please send them to info@xeneta.com.
PS: Missed the LIVE session? Sign up to get the full webinar recording.