What's the Future Bringing for HMM?
Patrik Berglund
Dec 02, 2016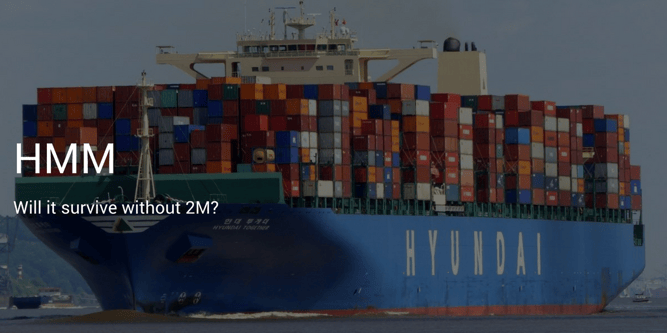 The last few weeks have not been kind to Hyundai Merchant Marine (HMM). One of the many carriers struggling to find a niche after the Hanjin bankruptcy and Japan 3 restructuring brought the rot in the box carriers out into the sunlight, one wonders where HMM fits in.
Prior to Hanjin's bankruptcy, HMM was promoting it's Transpacific routes as a feeder system for the 2M; however when Hanjin collapsed, Maersk and MSC quickly filled the gap and their financial stability served to attract Hanjin's worried shippers.
Thus it seems there is perhaps no need to bring HMM into the 2M, with Maersk announcing soon after the Hanjin debacle they saw no need to buy existing routes or ships except on a case-by-case basis on terms favorable to Maersk. Last Friday they spelled this out when they said "The parties are therefore discussing the possibility of HMM partnering with the 2M network through a slot exchange and purchase agreement." However, nothing is closed yet and talks are still ongoing with sources and media reporting that a conclusion to the cooperation will be concluded in a couple of weeks.
Maersk's goal is simple, as they explained last week; their interest is in "...the possibility of Maersk Line taking over charters and operations of vessels currently chartered to HMM with the aim of deploying them in the 2M network. The discussions include how we can improve our products on the Pacific trade."
Fair enough; Maersk has the financial strength to cherry-pick what they need, and on terms favorable to them. Their clout was made even more pronounced after yesterday's Hamburg Süd acquisition announcement.
Another Bankruptcy in the Midst?


But might this result in a second Korean shipping company bankruptcy? One of the key conditions of its financial restructuring negotiations with Korean Development Bank and other creditors was that HMM needed to become a full member of the 2M Alliance (Maersk and MSC). It appears instead that at best, HMM might only sign a slot exchange agreement with the 2M; thus jeopardizing their restructuring possibilities.
But HMM is not standing still; last week they announced the purchase of Hanjin's transshipment terminal in Algeciras. They want to be the sole owner of Total Terminal International (TTI), which has a capacity of 1.86 million TEU's annually.
However this purchase puts HMM in direct competition with Maersk, whose APM Terminal in Algeciras was the first large transshipment terminal in the Mediterranean.
HMM Not Giving Up the Ocean Freight Fight


Perhaps HMM is working on becoming a larger carrier, one that might force its way in one of the other alliances? HMM also has a 20% stake in the newly opened Rotterdam World Gateway container terminal, and operates the California United terminal in Los Angeles, the Washington United Terminal in Tacoma, WA and the Kaohsiung Hyundai Terminal in Taiwan. HMM has previously released plans to expand on these three sites, and last week announced expansion and building plans for Algeciras.
Which makes one wonder if Korea Line might be getting into the box business? With HMM? Last week the dry bulk carrier bought Hanjin's transpacific assets for $31.4million, giving them seven international subsidiaries, five Panamax vessels, and logistics operations the the USWC, Vietnam, and China. With the three alliances controlling 90% of transpacific capacity, perhaps a HMM-Korea Line announcement might be forthcoming. We don't know; just saying.
This would solve HMM's issues on funding their US-UK-Algeciras expansion plans. Previously they announced an operating loss of $452m in the first nine months of this year, while reported a net profit of $206m during the same period (due to to asset sales, not cargo; HMM carried 7% less, down to 2.1m TEUs)
But in truth, one wonders how many of small carriers are needed. We're starting to think it makes no difference as to what alliance these carriers join, or what name is painted on their boxes; until the problem of too many containers are chasing too little cargo is resolved; all we're doing is putting lipstick on some incredibly ugly pigs.
Stay on Top of the Market
Mergers, acquisitions, alliances and bankrutpcies can seriously disrupt your supply chain flow and affect your ocean freight prices.

Learn how the Xeneta platform works and how you can use it to see how your ocean freight prices perform against the market. Make sure your supply chain flow is not interrupted and stay abreast of current ocean freight prices.

The Xeneta platform:
Data for 60,000+ port-port pairs, trade lane corridors
17+ million contracted rates
Turnkey solution; zero implementation effort