Supply Chain Hiccups: Manual or Automated Intervention?
Katherine Barrios
Dec 20, 2016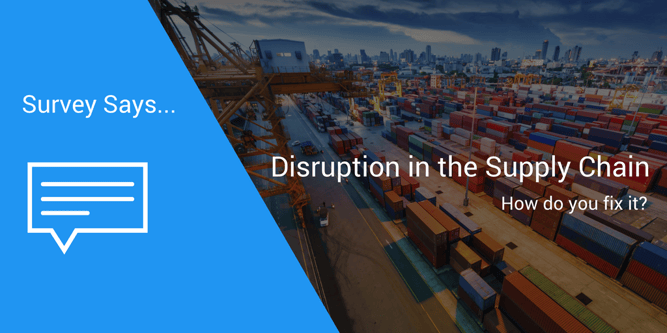 In this week's social media survey, we asked "to what extent do your international shipments require manual intervention to fix hiccups as cargo moves through the supply chain?" Even though, we are in, what I would call the "tech age", the survey results sided mainly with "manual intervention". Boo.
Manual Intervention Continues
Half the respondents (50%) indicated that they manually interfered with more than 50% of shipments, with 39% noting they manually interefered less than 50% of shipments; 6% were used fully automated intereference and 5% did not measure.
Twitter follower @LogisticsMaven commented "60% but automation is around the corner". This seems to be the case for many shippers. Folks realize the benefit of automation but for many it's deciding whether to build or purchase a technology system or to utilize the growing number of online marketplaces that are available.
Think about this question:
A shipment from Ningbo, China traveling to Los Angeles needs to be intercepted. How do you intervene?
Once it's en route there's no way to intervene

An email exchange that can take all day (if you're lucky)

Online portal with real time capabilities for managing shipments and collaborating with partners
Hopefully, many of you reading the above question answered "C". However, believe it or not, it has not been that long ago that intervention was either not possible or an all-day affair. Today, thanks to automation, it is possible to log into an online portal and with a few clicks, a shipper can make changes to a shipment traveling via ocean, air, road or rail. It's more a matter of the digital revolution in shipping and logistics to sound less scary and break habits of yesteryear. Humans and machines can be friends.


Related Reading
Big Data Enables Informed Decisions & Powers Global Trade
Ways Logistics Technology Improves Supply Chain Visibility

Supply Chain: What to Expect in 2030

Visibility is Vital
Visibility into shipments is vital. According to Raimond van Kampen, Vice President of International Logistics at CLX Logistics, understanding where one's cargo is at any given time gives the shipper the ability to prepare for the next step. This saves time and allows for quicker access and less chance for storage charges and delays.
In addition, visibility mitigates risk and adds agility. If a refrigerated shipment has a temperature alert sensor that notifies the carrier and shipper when a shipment is off-temperature, the carrier and/or shipper can immediately or via remotely address the situation and correct it before the product is compromised. All stakeholders can be notified and the product checked at its destination for possible spoilage. This avoids any later claims.


Build, Buy or Take Advantage of an Online Marketplace
It's your choice and it also depends on your needs. There are many software companies that can provide customized solutions, off-the-shelf solutions that are literally plug and plays as well as online marketplaces. Do your homework.
Ocean Freight Rates in Real Time
Disruptions and Innovation are changing today's supply chain at a rapid clip. As such, ocean freight rates can change at a moment's notice. Faxes, Excel sheets and phone calls usually used during contract negotiations and general market intelligence, is the story of yesteryear.
Learn how the Xeneta platform works and how you can use it to see how your ocean freight prices perform against the market in real time and on demand. Make sure your supply chain flow is not interrupted and stay abreast of current ocean freight prices.
Data for 60,000+ port-port pairs, trade lane corridors
17+ million contracted rates
Turnkey solution; zero implementation effort