In the current economic conditions, there aren't many shipping lines that can operate entirely on their own; at least not on a global basis, as they cannot provide the required coverage all by themselves. Enter shipping alliances. However, there must be ways that smaller lines can offer value as well. We have surveyed our social media community and asked, "How can smaller carriers compete against shipping alliances?"
April 1, 2017 will see the launch of three alliances: 2M, Ocean Alliance and THE Alliance which will control the majority of trade on the Trans-Pacific and a major part of Asia-Europe.
A small chunk of this is left for the smaller carriers. So, how can the Davids compete against the Goliaths of the industry?
Our community felt that the smaller liners can differentiate with specialized service and just being nicer than the behemoths.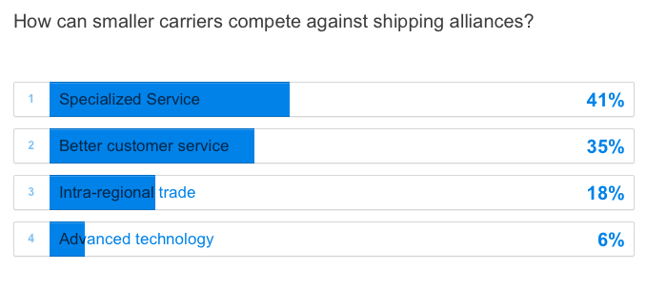 Advantages of Being Small


There are a few advantages that smaller lines have over the bigger lines and these advantages could be the main differentiating factors in a service industry like shipping.
Specialized or niche service
Enhanced customer service
Size
Nimbleness
Smaller lines are able to provide specialized and personal services tailor made for the client whereas an alliance works on the basis of JOPs (Joint Operating Procedures) or JWPs (Joint Working Procedures) which is difficult to circumvent and are difficult to change without the alliance partners jumping through hoops or making the customer jump through hoops.
Specialized services in shipping could mean a niche trade route that the bigger lines, especially those in an alliance, do not and cannot offer probably due to lack of sufficient volume, vessel being too big for the niche port.
These specialized services may work very well in favor of the smaller lines. The local knowledge and information that they have compared to a global line makes a major difference to many customers.
Smaller lines seem to have that personal commitment, flexibility and soft approach to their customer's business. They understand the requirements, which is not always possible for a bigger shipping line due to the much larger client base.
There are many smaller shipping lines all around the world like Wan Hai Lines that have survived for many years, down turns, and grown in spite of the threat and presence of bigger lines and alliances.
In 2011 when other Taiwanese shipping lines lost a cumulative NT$12.3 billion, Wan Hai Lines managed a small profit because of its dense port network within Asia, high-frequency shipping schedule, flexibility in operating short routes and being highly mobile as per Chung-hsing Huang, executive director of National Taiwan University's EMBA program.
Lines like these thrive on taking on activities, routes and services that an alliance isn't good at. They do this by nurturing a close personal connection between their sales and operations teams and the client.
Providing innovative and flexible solutions for unique problems faced by clients also helps smaller lines compete with the bigger lines as generally the bigger lines have their own set protocols of dealing with problems. Decision making is not always the quickest due to the number of layers in an alliance where there can be six shipping partners, for example.
Another area where the smaller lines can compete against such alliances is through the monitoring of their service quality. The ability to interact with their customers on a daily basis allows the smaller lines continual opportunities to find out how best to meet customer needs and expectations and adjust their strategy accordingly.
Small with Technology


Many do argue that technology is not the holy grail and that human touch is missed. In terms of the bigger shipping lines, too much of customer service has devolved into a lack of human touch with blind focus on technology and scripted answers delivered with an artificial grace. This is an advantage for the smaller lines.
However, I am not saying that smaller lines should rely soley on human interaction. They would be silly not to take the advantage of being small and coupling with technology platforms to better help with efficiency and productivity. They also would have more time to dedicate to learning and mastering new solutions that launch almost every day in the industry.
Conclusion
Technology, financial stamina, and low rates may not be something that the smaller lines can compete with against the might of these shipping alliances, but service levels and a personalized touch is something that can surely change the tide in their favor.
Common sense over SOP, personal touch over indifference, nimble and innovative solutions are the ways to transform the customer experience that will enable the smaller carriers to compete with the alliances.