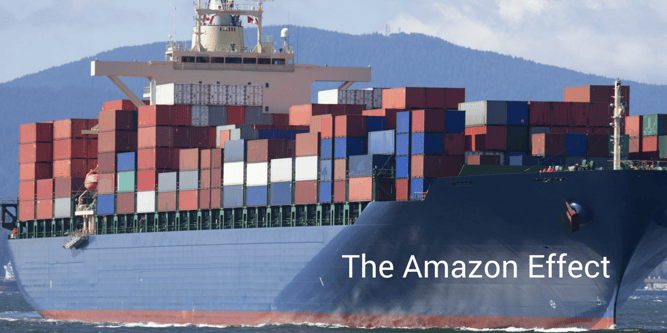 In an already crowded market and one that is challenging from a profitability perspective, news of a new entrant can always cause both curiosity and concern in the freight forwarding market.
But what if one of the largest e-commerce providers decides to offer freight forwarding services?
In our latest survey, we asked what effect Amazon will have on the ocean freight forwarding market.
Some Effect Expected
45% of respondents indicated some effect but nothing to write home about while 25% noted that Amazon would have a huge effect and revolutionize the industry. Meanwhile, 25% of respondents said it was too soon to tell and 5% did not expect any effect from Amazon entering the ocean freight forwarding market.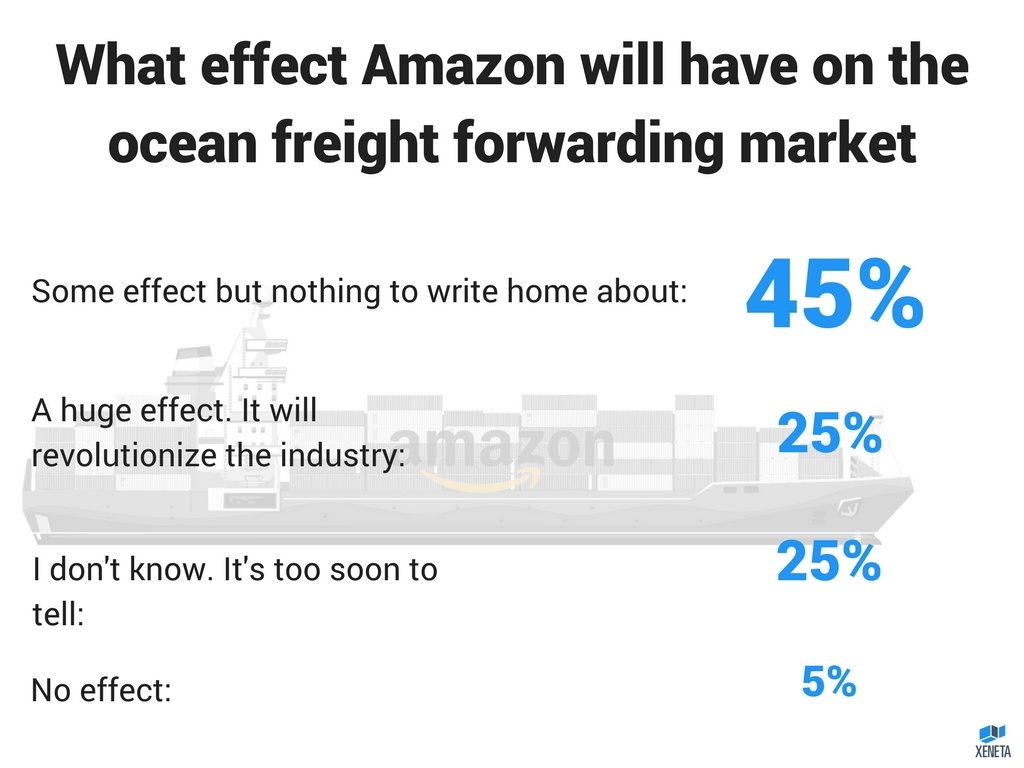 Click here to Tweet this graph

Amazon the Ocean Freight Forwarder
In late 2015, news broke that Amazon's Chinese subsidiary had obtained a NVOCC license through the US Federal Maritime Commission (FMC). However, as industry analysts waited for Amazon to utilize the license, folks were disappointed when nothing happened until almost a year later when the Wall Street Journal (WSJ) reported that Amazon was indeed moving freight via ocean. According to the story, Amazon had helped ship at least 150 containers of goods from China since October, according to shipping documents collected at ports of entry and compiled by Ocean Audit, a company specializing in ocean-freight refund recovery for shippers.
In January of this year, Amazon started posting rates for new services such as sorting, labeling, and trucking shipments. The services and rates were posted under the name of its Chinese subsidiary, Beijing Century Joyo Courier Service Co., with Distribution-Publications Inc., platform for such information.
A Long-Term Threat?
It's likely for the time being, ocean freight forwarding is just an additional piece of the puzzle for Amazon to serve its customers. It has leased airplanes, acquired trailers, dabbled in last mile delivery and has built an enviable fulfillment facility network all to satisfy its customers, those that purchase goods as well as those that are part of its Fulfillment by Amazon solution. It is tightening up the supply chain keeping movement of goods from the suppliers and sellers in China all the way to the front steps of the end customer.
As it continues to build its logistics network, it probably would not surprise anyone if Amazon takes on additional freight whether it's on one of its leased airplanes or space within an ocean freight container as capacity allows. The possibility of a threat to the forwarding industry is there and with it a new way of doing business will come if Amazon has it say.
Personally, as a big fan of bringing efficiency to shipping and supply chain, I do believe this is an interesting move by Amazon. Streamlining the complexity of ocean freight shipping and all cargo shipment is much needed. At this point, I am not sure if it is something to write home about ... yet, but I do believe it will have a huge effect. The end user will most likely feel some relief in the pocket with efficiency hitting the supply chain cutting costs throughout. Amazon did up the game on e-commerce and even web services. Who is to say they won't sprinkle efficiency to the max on the seemingly broken ocean freight forwarding business.