XSI® Public Indices Report
Ocean freight long-term contract market
November 2023:

The rate of decline on the Global XSI® is accelerating and painting a worrying picture for carriers who are already feeling financial pain.
The index fell by 4.1% in November to stand at 158.5 points. This is 62.3% lower than November 2022.
This development could be hugely concerning for carriers.
The biggest shift on the XSI® is not expected until Q1 2024, which is traditionally when the majority of long term contracts enter validity. The new agreements for next year will no doubt be at significantly lower rates, but until then, it could be assumed carriers would be offered some level of protection through existing long term contracts which were agreed back when rates were much higher.
XSI® Public Indices Content
The monthly XSI® Public Indices report gives an indication of the global market movements in the container shipping industry focusing on the long-term market for the biggest regions in the world:
Global index
Far East indices (import/export)
Europe indices (import/export)
US Indices (import/export)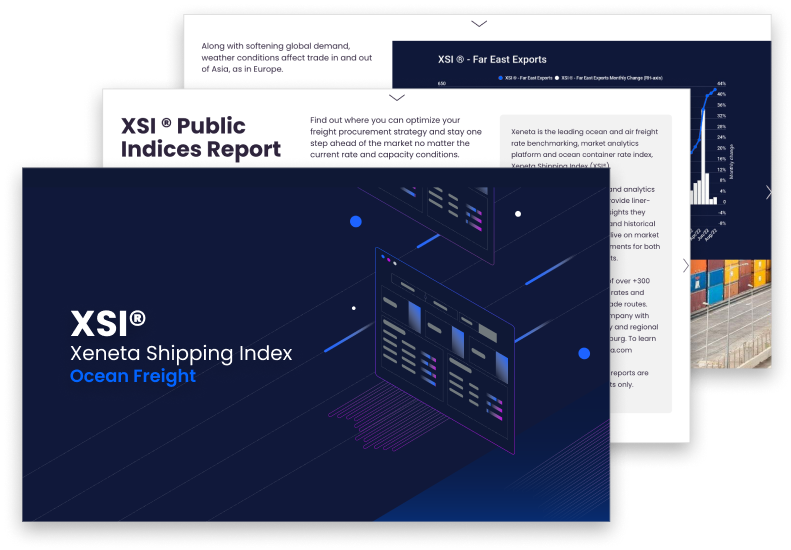 Methodology
Rates pulled from Xeneta's ocean and air freight platform of 400M+ contracted rates
Rates delivered from freight forwarders and shippers
Based on long-term contracts only - contracts valid more than 88 days
Indices based on an aggregation of trade-weighted corridors
Indices rates surcharges are based on all-in CY/CY pricing methodology
Global index is a combination of worldwide trade-weighted corridors not limited to US, Europe and Far East indices
Looking for short-term rates? Click here
Disclaimer: Xeneta does not recommend price setting on this market report as it is based on an aggregation of trade-weighted uncorrelated corridors. If you are interested in index-based contracting, contact us to learn about XSI® index-linked contracting.